Crude oil prices and other energy resources have continued to surge since the dawn of the 21st century caused by increasing demand from the world's population and economic growth. The situation concerning the limited supply of fossil fuel is becoming increasingly serious. Based on the expertise and experience cultivated over many years as an engineering company TOYO has continued to seek, not only to conserve energy, but also to use energy effectively in a manner that is in harmony with the environment, while endeavoring to develop new resources and alternative energy as a strategy for dealing with the crisis that confronts the planet.
TOYO has conducted a number of projects related to natural gas in Japan and other countries, from field development and gas processing plants for LPG, NGL and LNG to the construction of pipelines, receiving terminals and storage and distribution facilities. In the field of LNG, we have recently participated in the construction of liquefaction plants, in addition to natural gas processing plants, receiving terminals and storage and distribution facilities. This experience enables us to handle all types of natural gas related projects, from gas well to storage and distribution facilities. Also, we have aggressively developed business in the areas of DME, GTL and other alternative clean energy, and built the world's first fuel-use DME production plant.
From synthesis gas generation technology to alternative clean energy technology
TOYO has extensive experience spanning over 100 projects for ammonia, methanol and hydrogen plants in which hydrogen and synthetic gas are generated by reforming feedstock such as naphtha, natural gas and residual oil. We have used our extensive experience in the construction and revamping of these plants to develop efficient synthesis gas generation technologies, including our highly efficient steam reformer and ISOP highly active steam reforming catalyst. We have also been exceptionally successful in developing our proprietary MRF-Z® reactor, which is the optimum solution for large-scale methanol plants. The alternate clean energy field, which explores new cleaner products from natural gas as DME and GTL, offers TOYO the potential to fully utilize this type of large-scale synthesis gas generation technology.
Gas, pipeline and new energy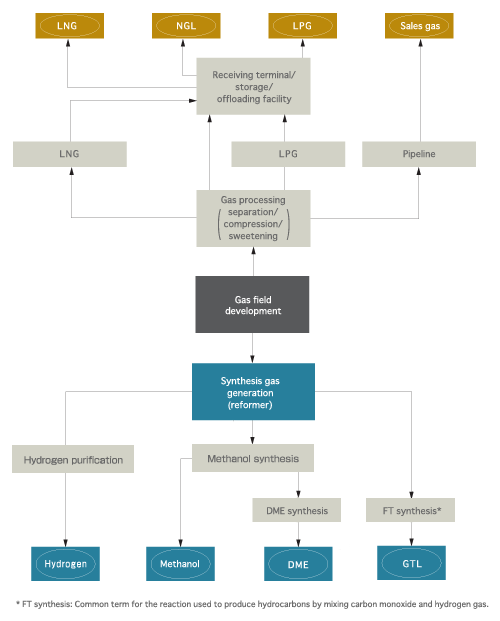 ※ISOP is a registered trademark of Toyo Engineering Corporation in Japan.
※MRF-Z is a registered trademark of Toyo Engineering Corporation in Japan.